Blockchain Gaming
FantaVerse's vision is to become a decentralized metaverse that operates efficiently. The entire universe is built on a distributed system. User and financial logic layers are built on Ethereum smart contract, game-related data is stored on FantaNet and artistic assets are stored on cloud mining machines. The front-end application layer is accessed through cloud gaming technology so that the system can be accessed anytime, anywhere without a central server, thereby achieving complete decentralization.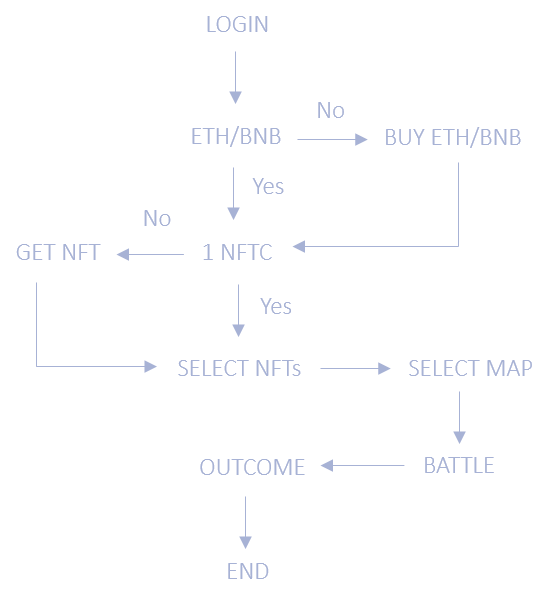 Step 1. Login to web version of FantaVerse marketplace via MetaMask. Players can choose to bind their email address.
Step 2. Select ETH/BSC network, deposit ETH/BNB to buy NFT characters/weapons (optional)/accessories (optional).
Step 3: Download FantaVerse Hub (client) and log in with your MetaMask account. The game will check if there is more than one NFT character, if not, it will prompt the user to buy from marketplace. If there is more than one NFT character, it will continue to the next step.
Step 4: The player chooses NFT character to log in and start game.
Step 5: Complete daily tasks, raids, battles etc. and be rewarded with tokens.
Step 6: Purchase and collect land, build homes, explore, breed characters and other advanced gameplay (casual gameplay).
---
NFT Market
FantaMarket is a Web3.0 application. All assets in FantaVerse such as characters, land, legendary equipment, skins, vehicles, mounts and planets are NFT assets. Players can also utilize the FantaEditor to Gamify their NFTs in the FantaVerse metaverse, making these NFTs real game applications and not just as a collection.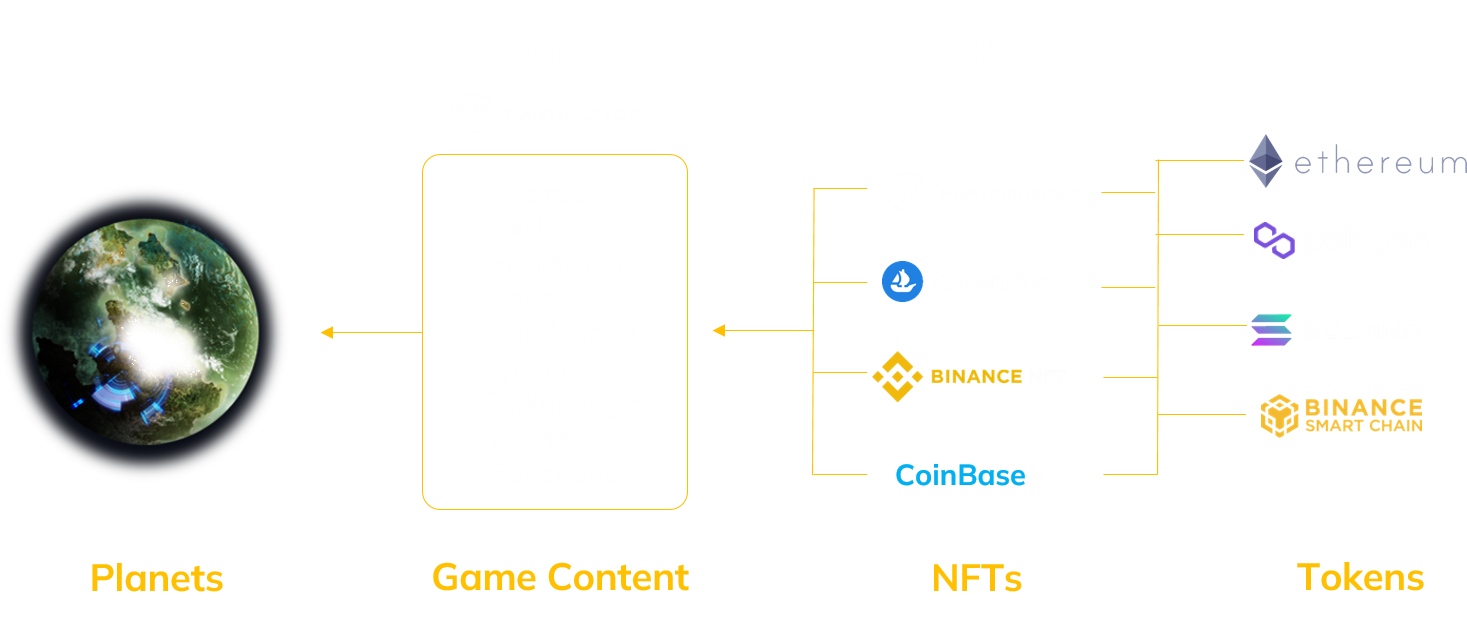 ---
Swap
FantaMarket includes a new generation cross-chain issuance and transaction protocol based on Ethereum Layer-2 network. Using Layer-2 as the foundation, FantaSwap combines multi-dimensional oracle and Web 3.0 technology to establish an intra-chain and cross-chain communication protocol that enables fast issuance of crypto assets and cross-chain transactions and circulation. We call this as cross-chain asset transaction agreement. This protocol supports the issuance of various encrypted assets such as local planet currency, race and character NFT, etc. These assets are exchanged and circulated in the game, enabling players to purchase characters, equipment, lands, etc conveniently.
The protocol will gradually support ETH (Layer-2), BSC, POLYGON and other public chains to create a comprehensive cross-chain ecology.
FantaSwap also provides in-game decentralized exchange DEX, staking and liquidity mining to facilitate the management of race tokens by various planet organizations. Multi-dimensional oracle system supports on-chain/off-chain asset transactions and ensures that it is tamper-proof.
FantaSwap also supports cross-chain bridge to provide support for NFT and token transactions on different chains.